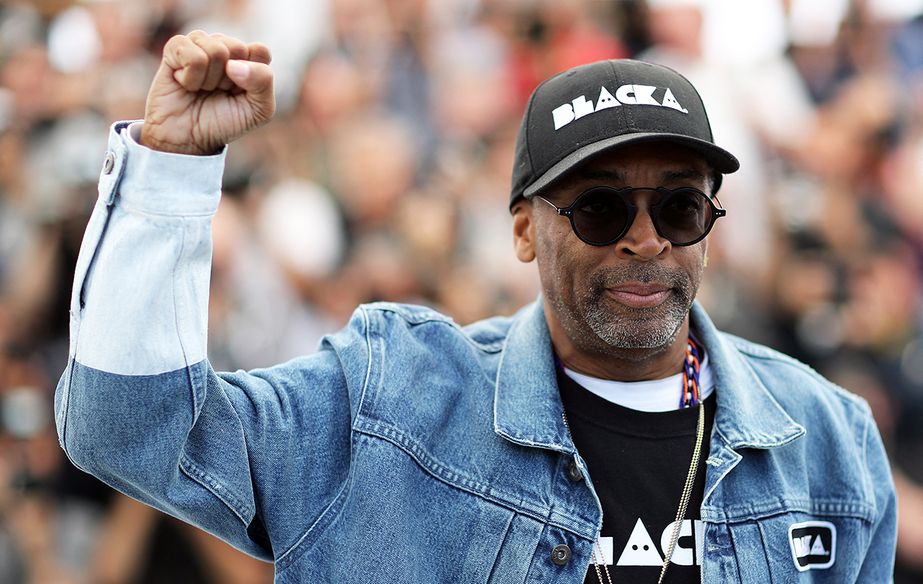 Spike Lee, President of the Jury of the 74th Festival © Valery Hache / AFP
The Festival de Cannes confirm that the American Spike Lee will be the President of the Jury of its 74th edition, which will be held this year from July 6 to 17, 2021. Loyal to his commitments, the American director promised to support the Festival on its return to the #Croisette.
Prevented last year due to the health crisis, the Festival de Cannes inaugurates this new decade with an outstanding President of the Jury, one of the greatest directors of his generation, as well as a screenwriter, actor, editor and producer. For 30 years, the tireless Spike Lee has been an astute chronicler of the questionnings of his time, with a resolutely contemporary approach that's never without a dash of levity and entertainment.
"Throughout the months of uncertainty we've just been through, Spike Lee has never stopped encouraging us. This support is finally coming to fruition and we could not have hoped for a more powerful personality to chart our troubled times", says Pierre Lescure, President of the Festival. "His enthusiasm and passion for cinema has given us a huge boost of energy to prepare the great Festival that everybody has been awaiting for. The party will be great, we simply can't wait! "says Thierry Frémaux, General Delegate.
From July 6 to 17, 2021 on the Croisette, these 12 summer days will be a celebration of art and creativity, and full of long-awaited reunions. Preparations are in full swing with a large numbers of films are being viewed by the selection committee.
Surrounded by the members of his Jury, Spike Lee will award the Palme d'Or at the closing ceremony on Saturday, July 17.
BIOGRAPHY
Born in Atlanta in 1957 but raised in Brooklyn, New York City, Shelton Jackson Lee considers himself first and foremost a writer – he works almost exclusively on his own screenplays. The maverick of US cinema stamped his personality on the cinema scene from the very beginning: bold and daring subjects, sharp direction, punchy dialogues, a mastery of sustained rhythm, and the perfect soundtrack to accompany each film.

A fascinating mix of genres that his filmography has constantly reflected for nearly 30 years since his first film in 1986, She's Gotta Have It. A sentimental satire in the guise of a sociological documentary, this inventive treasure trove set a pioneering tone. His subsequent feature films – Do the Right Thing in 1989 followed two years later by Jungle Fever – were shot through with New York's urban culture. Both were fixtures on the red carpet at Cannes, where they blew audiences away with their brilliant acuity and corrosive humour. In 2018, after a 22-year absence, Brooklyn-based director Spike Lee returned to the Competition with BlacKkKlansman and offered up glaring proof of his still undiminished anger and virtuosity. By turns a scathing comedy, detective thriller and political tract, the film was garnered the Grand Prix followed by the director's first Oscar for one of his films.

Behind his outsize glasses, Spike Lee's determined gaze captures the issues of his time, such as machismo and the herd instinct (Summer of Sam), the representation of Afro-Americans in the media (The Very Black Show) or the loss of moral values (She Hate Me). Although he situates his stories in American society, he goes well beyond its confines to transcend borders and deliver a universal discourse on tolerance, fraternity (Get on the Bus) or forgiveness (He Got Game). Whether in a biopic (Malcolm X), a poem (The 25th Hour) or a thriller in the purest Hollywood tradition (Inside Man), Spike Lee asserts his expertise not just in fiction but also in documentary (4 Little Girls, Katrina, Da 5 Bloods).

His work reflects the man who looks like an eternal teenager who's never seen without his sneakers and cap: facetious and turbulent, voluble and provocative, occasionally enraged, always engaged.

As a pioneer, Spike Lee paved the way for a new generation of African-American directors such as Ryan Coogler (Black Panther) Jordan Peele (Get Out), Barry Jenkins (Moonlight) and Ava DuVernay (Selma).