Talented Coventry University graduate Lilian Darteh, has embarked on an exciting new career after scooping a top job with ITV National News.
Lilian Darteh, 21, who graduated from Coventry University with a degree in journalism earlier this year, is now Assistant News Editor, playing an important role in planning and producing the programme.
She said: "I was so shocked when I got the call telling me I'd got the job, I told my mum and we were just screaming and hugging each other.
"I'm Assistant News Editor at ITV National News, it's amazing, I'm doing different things every day. It's a big change because not only am I getting used to a new job, I've also moved down to London too, but I'm really enjoying it. I often go out to conduct interviews and I work with the News Editor to help plan our coverage."
Lilian, who is from Gloucester, won the Course Tutor Prize during her time at Coventry University and says the university gave her a great head start in the world of journalism.
"The best thing about Coventry University from my point of view was that all the lecturers come from within industry, they have that inside knowhow that really helps you," she said.
"The facilities are also amazing and having access to all that gives students the freedom to pursue their interests in whatever direction they want to, it gives you that flexibility.
"My advice to anyone studying at Coventry University is to make use of the additional opportunities available, for example I studied how to use Premier Pro editing software and just having that on my CV makes a big difference."
Malcolm Bradbrook, Course Director for BA Journalism at Coventry University, said: "Lilian was in my first lecture when I took up the role as Course Director and it was immediately obvious that she had great qualities.
"Lilian is a very natural presenter, is exceptional when working as part of a team and really understands how to tell a story. She is a credit to herself and all of the lecturers who helped her through her three years on our Journalism course and we look forward to welcoming her back to inspire the next generations of our students."
Coventry University has an extensive range of specialist resources available to journalism students including a wireless suite of newsrooms, TV studio, video editing suite and radio studio.
Our Media Loan Shop also gives students the opportunity to borrow a range of equipment, a lot of which is used by professional reporters in broadcasting roles.
Visit https://www.coventry.ac.uk/course-structure/ug/fah/journalism-ba-hons/ to find out more about Coventry University's Journalism BA (hons) course.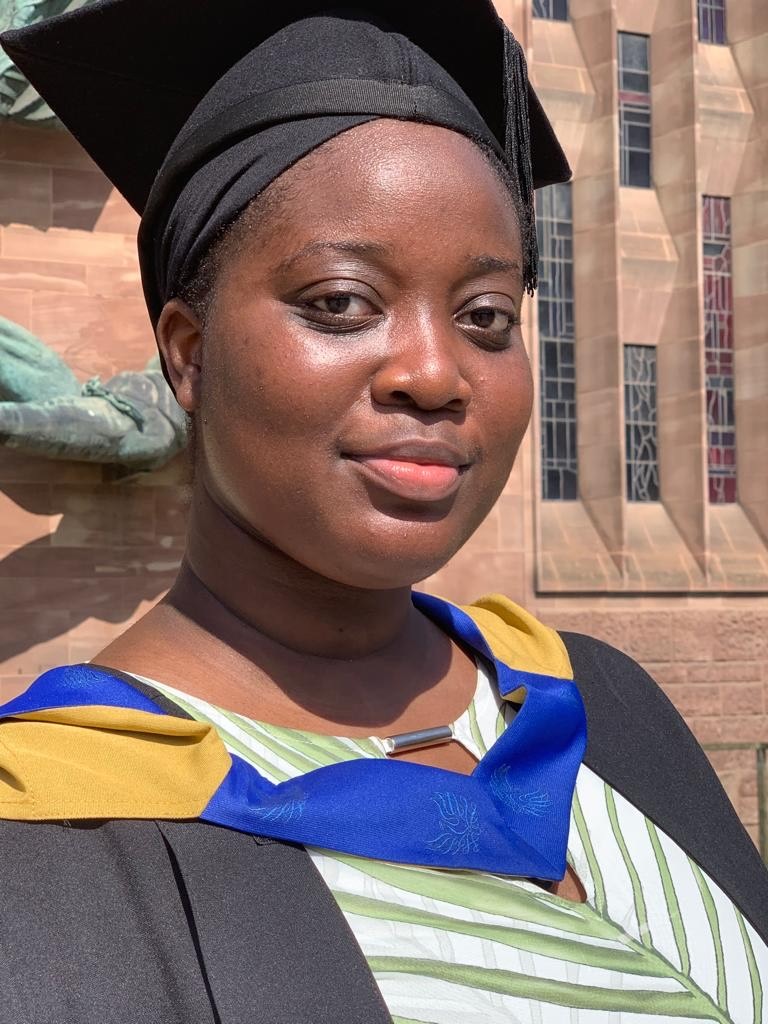 Lilian Darteh​
About Coventry University
Coventry University is a global, modern university with a mission of Creating Better Futures. We were founded by entrepreneurs and industrialists in 1843 as the Coventry School of Design and we continue to have strong links with the public and private sector, providing job-ready graduates with the skills and creative thinking to improve their communities.
With a proud tradition of innovative teaching and learning, Coventry University has world-class campus facilities, the UK's first standalone 5G network and a digital community of learning. Our students are part of a global network that has 50,000 learners studying Coventry University degrees in more than 40 different countries and partnerships with 150 higher education providers worldwide.
Over two centuries, they have flourished in Coventry and Coventry University Group now also delivers access a range of high-quality services and partnerships through bases in London, Scarborough, Belgium, Poland, Egypt, Dubai, Singapore and Africa. From September 2023, we will be teaching students at a new campus in China in a joint venture with Communication University of China.