https://www.youtube.com/embed/24KbaKlCDDI
New chick flick that shines light on the USA sex traffic industry arrives based on a series of tweets by A'ziah "Zola" King a part-time dancer from Detroit who went viral with her laugh out loud Twitter thread telling of a recent, road trip to Florida with someone called Jessica in 2015. According to #Zola she was seduced into going on the road-trip by a promise of "big money" pole-dancing for rich clients in #Tampa. When they hit the road they are joined by Jessica's off-beat boyfriend and her really unpredictable dual personality friend that turns out to be her pimp, Zola fast realises she had taken on more than she had bargained for and dance was not the only thing that was going to go down, well if she did not take matters into her own hands
.
But do we know what really happened? A lot of A'ziah's post lacked any credibility but that just seemed to draw in more and more followers until it went viral. The film is told by Zola giving an account of the "road trip" and then Jessica renamed Stefani gives her side of the story. .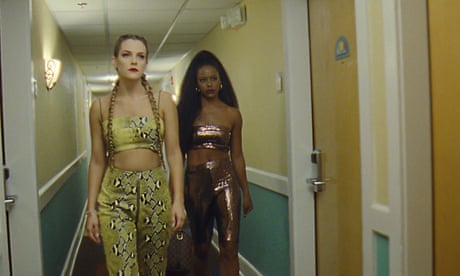 For Bravo adapting this riotous movie based on a series of tweets make cinematic history and it has paid off as we get a really hilarious wacky crime caper which sees newcomer Taylor Paige (Boogie, Ma Rainey) shine as the powerful fearless lead. So the story goes like this Zola works in a diner one day she serves a customer Stefani, played by Riley Keough as the larger than life "culture appropriating white girl" who takes the role to dizzy heights bringing in laughs. When Zola yells at Stefani : "YOUR BRAIN IS BROKE!" it pretty much sums her up.
Bravo commented on how she approached the movie "If it was not going to be mine I did not want to look back and say I had not given it everything. I felt sort of fearless, she (A'ziah) is fearless and I approached this with that same degree of tenacity and I know no one was better for this, so if they weren't going to hire me they were making a mistake".
It was also important to Bravo to live up to the original source material that everyone had fallen in love with. Talking about the adaption Bravo continued " there was not much for us to add a lot of it was already there and indeed there is a lot, a kidnapping, a shooting, sex trafficking and a suicide attempt, a rocket of a movie with everything in extreme . There is only one "real crime" scene a memorable one where we see X (Domingo) pull out all his acting punches, the Broadway, Ma Rainey actor always brings his A-game but here you see him take the "fearsome pimp" to drop jaw entertainment while welding between his surprising Nigerian accent and American. A must see movie.
Zola now in cinemas from 6 August.