Paterson Joseph was born and raised in London and trained at the London Academy of Music and Dramatic Art (LAMDA). He's worked extensively on screen, television and in the theatre. Paterson will next appear in #WONKA alongside Timothée Chalemet, directed by Paul King.
Paterson's previous on-screen credits include: Anansi Boys, That Dirty Black Bag, Vigil, The Mosquito Coast, Inside No.9, The End Of The F***ing World, Noughts And Crosses, Avenue 5, Grantchester, Peep Show, Green Wing, In The Name Of The Father and The Beach. On stage, Paterson's theatre credits include A Christmas Carol (Old Vic), Troilus and Cressida, The Last Days of Don Juan, King Lear (RSC); Elmina's Kitchen, St Joan, Emperor Jones and The Royal Hunt of the Sun (National Theatre).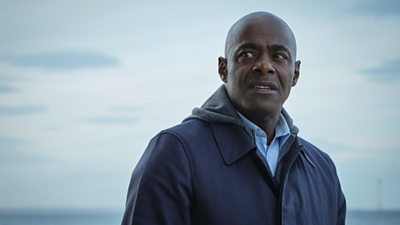 There are a lot of layers to Samuel; he is a family man, an ex-lawyer who knows a lot of interesting people. What drew you to him?
It's not often you get a character who is so delicate and fragile, especially as a middle-aged actor I was fascinated by that. How somebody who's really a cracked vessel can just hold his life together, he's just about leaking everywhere, but on the surface, everything seems fine, but we see a lot of cracks from the very early scenes. So, I was fascinated to see how that journey would continue and he just becomes more and more broken. And the fissures get wider and wider, and he holds less and less water as it goes on. It's a great character to have been able to play.
What can you tease audiences about the show?
if I was going to talk about this plot simply, it is two people who are desperate in their lives, for different reasons, one (Samuel), through all the fault of his own and another (Janet), through no fault of her own. Both are desperate and they find themselves in a dilemma, a moral quandary. Do you steal a boat load of illegal drugs and step over the two dead bodies that you find, or do you call the police? and they both decide to take it and run.
How does Samuel convince Janet to take the drugs?
We have a situation where both of us are desperate; Janet is a woman who has clearly got to be on her heels, and here's all this money and I'm desperate. I want to save my life and my family's existence; I need to get this money. I convince her to think about the possibility of taking this money and running. I don't think Samuel should be blamed entirely for Janet's decisions. I'd like to defend him for that, but all he does is present her the opportunity and if we take it, we could both succeed and if we don't, we'll always regret it. That's the moral quandary he presents to her, and she bites at it.
How do you think audiences will react to Boat Story?
I think that this story will divide a lot of viewers in the sides they take. Initially of course they're on the sides of the two main characters, Janet and Samuel, because they think these guys are desperate and this money is there. But they must consider that the morality of it is a bit skewed. They should really call the police and they don't. The consequences are some very bad people come after these two innocent people who have no idea how to deal with mobsters and drug runners, especially French ones who are quite sophisticated and psychopathic. I think what they set in motion is terrible and it's almost funny in a dark humour way, because of the grim things that happen. A lot of people lose their lives because of Samuel and Janet's decision, I think the audience will be in a moral quandary through most of it.
Who is The Tailor and Guy?
Every good thriller needs a big villain and we've got one in the shape of Tchéky Karyo, who used to live in France, so I know him quite well. The Tailor is the Robert De Niro of France, a man who you're not quite sure what he's going to do and what he's capable of; we find out quite quickly, he's capable of some gross violence. He is dealing with two people who are innocents in this world, and he terrifies us, and I think the audience should be terrified of what he will do to us, and they will be. He is a man without any morality.
The Tailor has also got the amazing Craig Fairbrass as his henchmen, and Craig is one of the funniest men on the planet. I laughed a lot with him as well as being terrified by him. Craig's character Guy comes after us and physically intimidates us, but also mentally terrorises us in an affable way. I've never quite seen Craig in anything like this; I think the audience will be really excited by it.
What has it been like working with Daisy Haggard?
It's been great to work with Daisy. I've seen her in many things, and we have many mutual friends. I think both of us are playing characters we haven't been seen playing before and I'm definitely not any form of an alpha male in this and she actually turns out to be much more in charge of things than she starts off being. It was great playing with her because they never really get to know each other as pals, it's not Thelma and Louise, we don't end up really having a bond with each other, it's all business and terror. So really, Daisy was perfect because we knew each other so well, that we could play the opposite to how we really feel about each other, without feeling that we're going to offend the other.
I think the character combinations are really interesting – I'm looking forward to seeing how that comes across, two people who are from very different worlds meeting like that is a really fascinating thing to witness and see how they cope. Samuel's a bit of a coward in terms of physical violence, he wants to escape it, but Janet, because she's a 'tiger mum' she will do anything. This includes risking her own life to save her loved ones and it's interesting to play somebody who's got a moral compass that's slightly skewed rather than Janet's and see these two people battling out.
What surprised you about Samuel Wells?
I think I was really surprised at how brilliant he is at lying. He's one of these people who doesn't need to even blink before he delivers a full biography or something that is completely made up and will convince you that whatever he's saying is true. That's a superpower, and he's very good at it. It gets him out of enormous trouble, and I really love the fact that though he has the gift of the gab, he's also psychologically good at reading people. When he's alone with Guy and the two of them are waiting for Janet, clearly this man is going to kill them both when he gets a chance. His strategy is not silence and hope he can run; his strategy is almost talking this man to death. Make sure this man knows your humanity, find out stuff about him, and then tease that out so that it's going to be harder for him when he needs to pull the trigger.
How have you found filming in Yorkshire?
Yorkshire has been beautiful; I've loved every minute of it. Halifax was the big surprise for me and going into the covered market and finding 'the street in the sky', which is five-bedroom houses above a market. It's a beautiful place and should be renovated as I think artists would love to live up there. I knew the Lake District quite well, but I didn't know the Yorkshire Dales and everywhere we've been, has been beautiful.
How would you describe Boat Story?
I would say apart from love story themes, everything else is packed in this. There is love, but it's familial love and the commitment that both Janet and Samuel have to their families and doing anything they can to save their families, which is beautiful, even if misguided. Also, there's the thriller element, the fact that you're laughing and at the same time wondering who's going to die next. It's very, very well balanced.
Have you ever made a wild life-changing decision?
I think in life you should make at least one wild decision. The wildest decision I have ever made was to live in in Dublin for over a year, and I got married there. That wasn't the wildest decision though, the wildest decision was to live out there. I had a wonderful time and eventually I had to come back to start work again. This was in the mid-90's and it was a wonderful, crazy thing to do, but I have never regretted it.