The Family Reunion, the immersive experience celebrating diversity in the hospitality community, returns for a second year from August 18-21 at Salamander Resort & Spa in Middleburg, VA. Overnight packages and multi-event passes are now available at  www.salamanderhotels.com/familyreunion .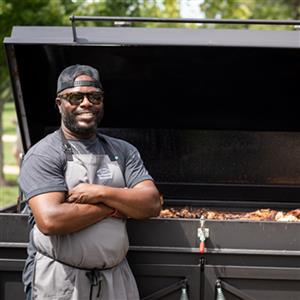 The event's enriching programming is highlighted by some of the industry's top talent including Carla Hall, Rodney Scott, Nina Compton, Gregory Gourdet, Mashama Bailey, Tavel Bristol-Joseph, Pierre Thiam and several surprise guests.
Presented by Chef and Author Kwame Onwuachi in collaboration with Dotdash Meredith's FOOD & WINE and Sheila Johnson's Salamander Hotels & Resorts, the multi-day event crosses culinary boundaries and combines thought-provoking panel discussions, topical cooking demonstrations, inspiring recreational activities and daily "family" meals where attendees and celebrity participants can interact. Last year's inaugural event was lauded by guests and talent for its energetic and unique approach.
"The Family Reunion was created to celebrate Black and Brown contributions to the food industry, said Onwuachi, who is also a contributing executive producer for FOOD & WINE. "Join us as we kick off year two of festivities with bigger, better and even more important programming."
The mission of The Family Reunion is to nurture, develop and celebrate racial and ethnic diversity within the next generation of hospitality professionals. The event takes place at Johnson's Forbes Five-Star-rated property located in the heart of the state's wine country and just one hour from Washington, D.C. Experiences take place throughout the 340-acre Salamander property, including its Culinary Garden and Library. There are also two outdoor Grand Stage venues hosting a rotating lineup of presentations and panel discussions.
"Last year's event was an emotional celebration for all involved, and we will continue to inspire inclusivity and equality within the hospitality and culinary industries," said Johnson, who is the only African-American woman to wholly own a Forbes Five-Star resort and renowned for co-founding Black Entertainment Television.
A full schedule will be announced in the coming weeks. Additional and notable culinary talent, in order of appearance, includes Bryan Furman, Matt Horn, Virginia Ali, Angel Barreto, Charlie Mitchell, Martel Stone, Melba Wilson, Bryant Terry, Maya-Camille Broussard, Dawn Burrell, Claudia Martinez, Douglass Williams, Osei Blackett, Justin Sutherland, Eric Adjepong, Zoe Adjonyoh, Andre Fowles, Peter Prime, Shorne Benjamin, Paola Velez, JR Robinson, Alexander Smalls, Erick Williams, Jonny Rhodes, Nyesha Arrington, the McBride sisters, Julia Coney, Nadine Brown, Pierre Serrao, Preston Clark, Tiffany Derry and Vallery Lomas.
In addition to Sheila Johnson, Salamander Hotels & Resorts and Food & Wine, the 2022 event already enjoys sponsorship support from Brett Johnson, McBride Sisters Wine Company, Virginia Tourism Corporation and Visit Loudoun, with more to be announced soon.
The Family Reunion is part of the FOOD & WINE Classic network of events anchored by the celebrated FOOD & WINE Classic in #Aspen, a mainstay in the culinary world for over three decades.
# # #