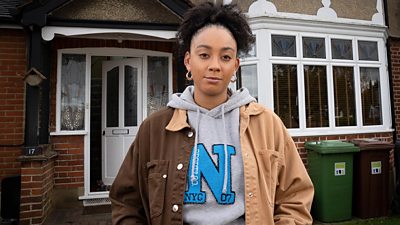 Do you think Maya enjoys spending time with the Jessop family?
I think Maya enjoys the chaos and the constant back and forth that the family has going on. It's nothing like anything she has experienced before, I think she finds it… interesting… and highly amusing to be a part of this family! Along with the all of the craziness in that house she definitely has love for the Jessops.
How does Maya and Amy's relationship fare across the series?
Their relationship is challenged throughout the series – they are suspicious, there's a lack of trust and a questioning of loyalty on their trust and loyalty – but, all relationships go through difficulties and I think they come out the other side with a stronger bond and more love and affection for each other.
How was filming the series of Here We Go?
The filming process was incredible, it was constantly entertaining, and we genuinely had a lot of fun! The cast is so brilliant and I'm just really proud to be a part of this show. There was never a dull day on set and as time went on we all got closer, and I loved how much we bonded as a cast – I made some friends for life on this job.
There are some real laugh-out-loud moments this series, what was your favourite scene to shoot?
My favourite scene to shoot was the scene in the swimming pool… despite us being in a swimming pool in a garden in England in winter. The scene is so well written – it's hilarious and it was just so fun to film -we laughed A LOT both on and off camera that day!
Did you get any career advice from your cast mates?
I can't think of anything specifically that was said to me but just being surrounded by such an incredibly talented and experienced cast and crew, you learn so much from just watching them work and then of course working opposite them in a scene – I feel like I probably learned something from everyone along the way!
Here We Go starts Friday 29th April at 8:30pm on BBC One and BBC iPlayer.