Eyimofe stars the UK-based actor Jude Akuwudike (Mofe) in his first leading feature film role, alongside the Nigerian newcomer Temi Ami-Williams (Rosa) in her first screen appearance. Split into chapters and set in the present day, Eyimofe follows Mofe, a factory technician, and Rosa, a hairdresser, on their quest for what they believe will be a better life on foreign shores. The film juxtaposes Mofe and Rosa's perspectives to explore male and female experiences in Nigeria. You can book tickets here . Watch trailer here.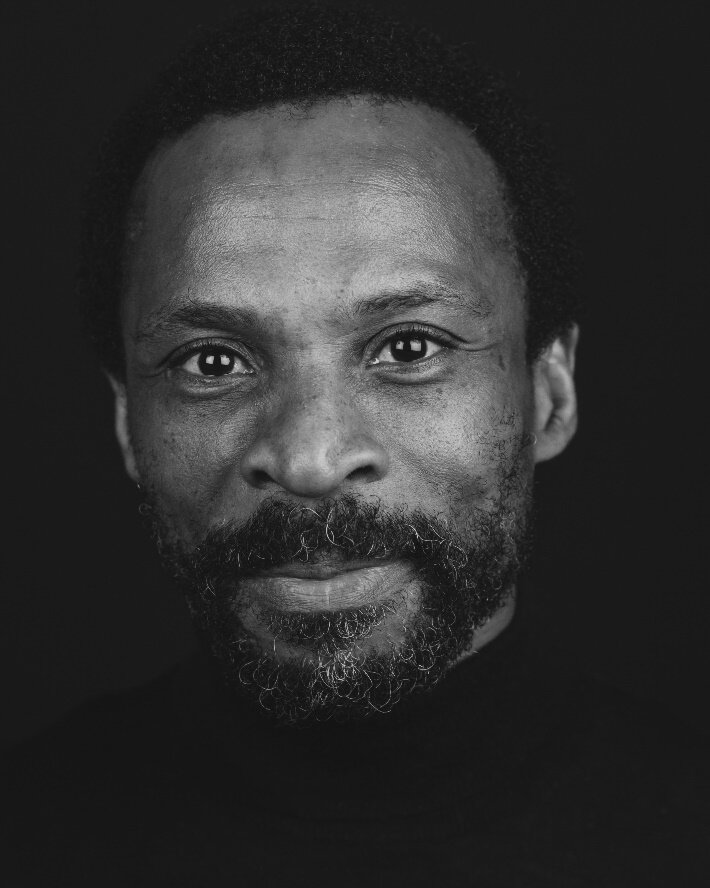 Jude is a Nigerian-born actor educated in England. He trained at The Royal Academy of Dramatic Art and has since performed at some of the best theatres in the UK. His credits include Moon on a Rainbow Shawl, directed by Michael Buffong for the National Theatre; Macbeth and Macbeth at Royal Shakespeare Company (RSC) and Pericles at The Globe. More recently, he appeared in The Convert at the Young Vic, Two Noble Kinsmen at The Globe and The Royal National Theatre's recent production of Three Sisters set during the Biafran War. On television,
Jude can be seen in Sky Atlantic's Gangs of London, BBC1's Moving On, Amazon's Fortitude, and Sky One's in The Long Run. His film credits include Beasts of No Nation, The Tempest, Touched by A Stranger, Whisper the Way of the Child, Sahara and A World Apart. Jude lives in London and Eyimofe is his first film in Nigeria.
What was the drive to become an actor?
I took great pleasure in telling stories as a child, both hearing and creating and them and I was encouraged by people around me to take part in school plays. Years later, having successfully appeared in three plays at the Edinburgh Festival, I was convinced I could make a go of it. After a year of acting work, I went to RADA for more formal training and resumed working after graduation. I have a firm belief in the great and broad importance of the dramatic arts in life and all fields of endeavour.
2. What was your first professional acting job?
My first professional job was with Theatre Venture in 1984, Newham's touring Theatre Company, playing Will Thorn in the play of the same name. This detailed the struggles of one of the founding members of the first trade union for unskilled labourers. It was a fantastic company to work with and I learnt a great deal from my more experienced colleagues.
3. How has lockdown/Covid-19 affected your work?
It is legendary how devastating the lockdown has been for the arts, especially the performing arts with its ranks of freelance and self-employed artists. Work is scarce, but I have not been the worst affected and am fortunate to have taken part in some radio, and a little TV and film.
4. What would be the ideal scenario you would like to see happen in the film industry when Covid-19 subsides?
The industry needs all the support it can get and we should not take for granted how much it enriches our quality of life and the large contribution it makes to the economy – perhaps Covid has shown this sharply.
5. How did the death of George Floyd affect you?
The death of Floyd was a terrible moment in a long succession of terrible moments: others have since followed. That it happened during a time of world lockdown and paucity of distractions focused the world. We all saw it and we all had time to feel, think and protest it, where before other preoccupations might have made it something more transient. It was an act of horror that has, I hope, woken up the world.
6. Tell us about your character in Eyimofe what is his motivation: how do you relate to him?
Mofe is an electrician at a struggling firm of printers in Lagos. Not highly educated and coming from a family where his qualities are little valued, he tries his best to make a living with his god-given ability to instinctively work out machines, mechanisms and systems. He also works as a security guard in a complex of well-appointed apartments, all to sustain himself, his sister and her two sons that live with him in a cramped flat. He struggles to keep the factory running against all odds while nursing a hope to get his ticket out of Nigeria to improve his lot abroad. He has the drive to make something of himself that will ultimately benefit society around him with many obstacles to overcome.
Find out more about our Print & Digital edition of ALT A Review 40 pages of entertainment news, interviews, reviews and more.
Saves £££££££'s this Black History Month on a quarterly subscription find out more here
7. What was it like filming in Lagos?
It was a special experience: my longest stay in Nigeria since leaving, my first job ever in the country and the first Independence Day spent there as an adult. I enjoyed absorbing the energy of the city, traffic, markets, colours, languages, smells, food and people. Working with the Esiri brothers and the wonderful assembly of international artists they gathered was great – the only continent unrepresented was Australia. I also got closer to the talent Nigeria has in abundance in the cast, in design and in the crew. Our future's bright.
8. How do you feel about the film being selected for the BFI?
I am seriously excited to be part of the festival. It was also exciting to be part of The Berlin Festival earlier this year, but London is extra special as it's the city where I live.
9. What did you like about working with the two Directors Arie Esiri and Chuko Esiri?
It was a joy and a privilege to work with the Esiri brothers. They are welcoming, clear and adventurous in their vision and set out to do something different. I look forward to their films to come and urge investors to support their future efforts – I believe they will succeed.
10. Where do you call home?
I have two homes in Nigeria & England. However, the ancestral calling is very powerful.
11. Are you a Nollywood fan?
I love Nollywood because it is self-generated and self-sustaining, growing all the time and improving. It has a Nigerian stamp of identity to it just as Bollywood enjoys its special Indian character; however, there is growing plurality in Nigerian filmmaking. There is room for the less commercial and more authorial statements which Eyimofe is an example of: this plurality will grow as the Nigerian film industry does.
The BFI London Film Festival runs 7-18 October 2020. Eyimofe will be available to screen virtually for 72 hours from 11-14 October 2020. Tickets are available for the general public on BFI Player
@gdnstudiosng – Instagram @gdnstudios – Facebook #Eyimofefilm